John F. Savage Arena enters its 41st year as the home of Rocket basketball, and its ninth since the completion of a $30 million renovation that has made the University of Toledo athletic facility one of the finest arenas of its size in the country.
Originally known as Centennial Hall when it was built in 1976, the arena was renamed "Savage Hall" in 1988 and then became "Savage Arena" in 2008 as part of the renovation project.

A national audience was able to see first hand how impressive Savage Arena is when UT hosted the first and second rounds of the 2014 NCAA Women's Basketball Tournament.

Designed by architectural firms of SSOE, Inc. and Ellerbe Becket, the renovated Savage Arena includes a "bowl-style" seating configuration that brings fans close to the action. Seating capacity for basketball is 7,014.

Among the other improvements to the arena in 2008 were the addition of a brand-new basketball court; suites, loges and club seats along the west side of the arena; a new jumbo video scoreboard and sound system; new lighting; new rest rooms and concession stands; a remodeled Joe Grogan Room, a glass-enclosed lounge with seating for up to 200 inner guests; new locker rooms and team rooms; and a new athletic training room, complete with two whirlpools and the latest in treatment and rehabilitation equipment.

Adjoining Savage Arena is the Sullivan Complex, a 36,000 squarefoot building that is a perfect complement to the arena. Highlighting the Sullivan Complex is a beautiful glass atrium lobby that serves as the primary entrance into Savage Arena.

Other features include a ticket office; Rocky's Locker for the sale of UT merchandise on game day and during normal business hours; a display for the Varsity 'T' Hall of Fame; the Downtown Coaches "Wall of Champions"; a 5,600 square-foot strength and training center for UT student-athletes; and offices for coaches and staff.

The basketball court in Savage bears the name of the greatest coach in UT men's history—the late Bob Nichols. Nichols coached the Rockets from 1965-87 and is still the winningest coach in Mid-American Conference history, compiling a 376-212 record and five conference titles in 22 seasons.

During their time in Savage Arena, UT has consistently ranked among the MAC leaders in attendance, more often than not ranking first in the league. Toledo has ranked among the leaders in attendance over the last decade. Since Savage Arena opened in 1976, more than three million fans have watched the Rockets play.

With big crowds have come big wins. The first game played in Savage Arena is perhaps the biggest win of them all — the 59-57 victory over defending NCAA champion Indiana University in 1976. With that win, the Rockets snapped Bobby Knight and the Hoosiers' 33-game winning streak and started a supreme basketball tradition in Savage Arena. The Rockets have continued the tradition with home victories over Ohio State, Xavier, Cincinnati, Houston and Pittsburgh as well as a 57-56 triumph over UMass in the first game of the 'New' Savage Arena on Dec. 3, 2008.

Trips to Savage Arena have meant frustration for visiting opponents, as UT has won over 70 percent of its games at home, posting a 408-172 record. During the first five years in Savage Arena, UT posted an amazing 71-10 (.877) record, with a 15-1 mark in 1976-77 and 1978-79 and a 14-1 slate in 1979-80.

The Rockets posted an 18-game home win streak under Coach Kowlaczyk from March 5, 2013 - November 24, 2014 that is UT's longest ever in Savage Arena and matches the second longest in program history. Toledo posted a 15-0 home ledger in the 2013-14 campaign, marking the fourth time a Rocket squad has finished with an unblemished home slate.

A multi-purpose complex, Savage Arena not only serves the needs of intercollegiate athletics, but it also hosts concerts, convocations and graduation exercises. To date, nearly eight million people have visited Savage Hall for various forms of entertainment.

The list of entertainers who have performed in Savage Arena include Elvis Presley, Cher, Pearl Jam, Smashing Pumpkins, Kenny Chesney, Sheryl Crow, TLC, Boyz II Men, Elton John, Frank Sinatra, Michael Bolton, Rod Stewart, Bob Seger, Steve Winwood and many others.
Rocket Locker Room
The Rockets' locker room features custom wooden lockers, team meeting space, a team lounge, an LCD flat-screen TV and shower facilities.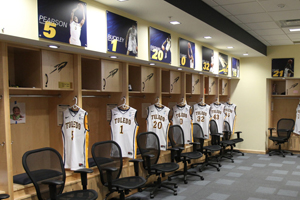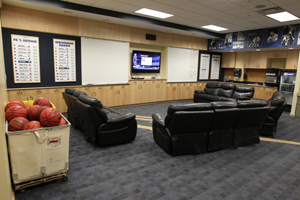 Rocky's Locker
Rocky's Locker is the official athletic gear store for the athletic department and has more than 150 clothing and gift items for sale.
Video Scoreboard
The video scoreboard in Savage Arena is 28x23 and weighs eight tons. It contains four video screens, 8x14 each, that displays players' points and fouls.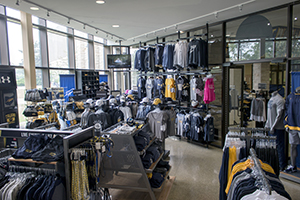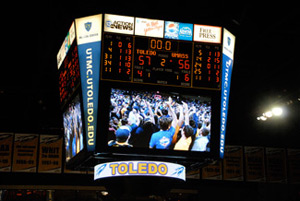 Premium Seating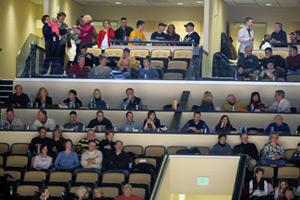 Suites: 12
Grogan Room Seats: 200
Club Seats: 194
Loges: 18
Courtside Seats: 84
Varsity 'T' Hall of Fame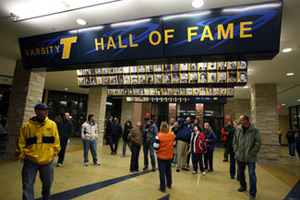 A ceiling-mounted display features plaques from over 200 former Rocket student-athletes, coaches and administrators who have been inducted into the Varsity 'T' Hall of Fame since 1977.