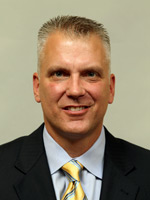 Head coach Tod Kowalczyk has turned the University of Toledo men's basketball program into one of the best in the Mid-American Conference during his near-decade run at the Rockets' helm. UT's mentor will enter the 2019-20 campaign looking to continue a run of success that has elevated the Rockets into one of the top mid-major programs in the country.
      Last year, Toledo tallied the second-most victories (25) in program history, captured its second straight outright MAC West Division title and earned a berth in the National Invitation Tournament. In addition, the Rockets have produced a 48-18 (.727) record over the last two years, marking the most wins in back-to-back seasons in program history.
      Now in his 10th year at UT, Kowalczyk has guided the Rockets to four 20-win seasons in the last six years and has posted a 129-71 win-loss mark during this stretch.
      In fact, the only losing season Kowalczyk has experienced at the helm of the Rockets was in his first season. UT posted a 4-28 ledger in 2010-11 before posting a 15-win improvement in Year Two and capturing a share of the MAC West Division title the following season.
      Those building blocks evolved into a 2013-14 campaign that brought unprecedented success for the Rockets. UT established a school record with 27 victories that season, captured a share of its eighth league regular-season title and appeared in its eighth National Invitation Tournament.
      Kowalczyk's imprint hasn't been felt just on the hardwood. One of the most respected coaches nationally, Kowalczyk was named the chair of the NCAA's Division I Men's Basketball Ethics Coalition this past summer.


---
2018-19: A Trip to the NIT AND BACK-To-BACK OUTRIGHT MAC WEST DIVISION TITLES
Toledo (25-8) produced another memorable season by winning the second most games ever by a Rocket squad and earning a NIT berth for the ninth time in school history. UT registered a 13-5 league mark for the second straight season, finishing three games in front of Central Michigan in the West Division standings.
Senior Jaelan Sanford earned First-Team All-MAC honors to give the Rockets a first-team all-league selection for the sixth time in the last seven seasons. Senior Nate Navigato and sophomore Marreon Jackson received Honorable-Mention All-MAC honors, while AJ Edu was named to the MAC's All-Freshman Team.
---
2017-18: A Trip to the MAC Championship Game
The Rockets finished just short of their ultimate goal after dropping a 76-66 decision to Buffalo in the MAC Championship Game. With UT's MAC Player of the Year since 1981, Tre'Shaun Fletcher, sidelined due to a knee injury, Toledo evened the score at 63-63 with five minutes remaining before seeing the Bulls pull away.     Fletcher enjoyed a storybook season for the Rockets as he became the program's first AP Honorable Mention All-American since Steve Mix in 1969.      
Junior Jaelan Sanford also earned Second-Team All-MAC honors, giving the Rockets at least two all-conference honorees for the sixth straight season. Freshman Marreon Jackson was named to the MAC's All-Freshman Team and joined Sanford on the MAC's All-Tounrnament Team.     
As a team, the Rockets set school records for three-point field goals (327) and blocked shots (135) in a season and ranked 11th nationally with a 40.1 three-point field-goal percentage.
---
2016-17: A Return to Postseason Play
Toledo qualified for postseason play for the third time in the last six seasons with an appearance in the College Basketball Invitational. Senior forward Steve Taylor Jr. earned second-team All-MAC honors after topping the nation with 9.9 defensive rpg and ranking third nationally with 12.2 rpg. Senior guard Jonathan Williams received third-team All-MAC accolades for a second consecutive season to give UT at least two all-league honorees for a fifth straight season.
---
2015-16: All-MAC Honors for Boothe & Williams
Senior Nathan Boothe earned first-team all-league honors in 2015-16, making UT the only MAC school to have an All-MAC First Team honoree each of the previous four seasons. Junior guard Jonathan Williams also earned all-league honors as he was named to the All-MAC Third Team. Boothe led the conference with 19.3 ppg, while Williams tallied 17.6 ppg to rank third in league scoring.
---
2014-15: ANOTHER 20-WIN CAMPAIGN
The Rockets registered their second-straight 20-win campaign in 2014-15, marking the first time UT had notched back-to-back 20-win seasons in nearly 35 years. Toledo finished with an 11-7 league mark and earned a No. 4 seed in the MAC Tournament.
Three-time all-league guard Julius Brown (16.3 ppg, 40.0 3PTFG%) concluded his Rocket career with a second-straight first-team award as well as another spot on the Collegeinsider.com Mid-Major All-American squad. Seniors Justin Drummond (13.1 ppg, 4.6 rpg) and J.D. Weatherspoon (12.9 ppg, 8.4 rpg) were each named to the third-team all-conference unit with junior Nathan Boothe (10.0 ppg, 5.7 rpg) earning an honorable-mention spot.
The Rockets' four all-conference selections marked a league-best eight all-conference honorees for UT over a two-year period (2013-14 & 2014-15).
---
2013-14: Building an Offensive Juggernaut
Kowalczyk's emphasis on offensive execution elevated Toledo into becoming one of the most explosive teams in the nation in 2013-14. The Rockets averaged 79.2 points per game to go along with a 1.5 assist/turnover ratio, figures that topped the MAC and ranked among the Top 20 nationally.
Junior guard Julius Brown (14.9 ppg, MAC-high 6.0 apg) was the engine that drove UT's attack. He was recognized for his impact on the Rockets with first-team All-MAC accolades as well as earning a spot on the Collegeinsider.com Mid-Major All-American squad.
Three Rockets — senior guard Rian Pearson (14.6 ppg, 2nd Team), junior guard Justin Drummond (14.2 ppg, 3rd Team) and junior forward J.D. Weatherspoon (10.6 ppg, honorable mention) – were also honored with spots on the all-league squad.
Guard Jonathan Williams (6.7 ppg) came off the bench to earn a spot on the MAC's All-Freshman Team, marking the third straight season a Rocket was so honored.
---
2012-13: Hanging a Banner in Savage Arena
Toledo was dealt a blow prior to the 2012-13 season when it was ruled ineligible for 2013 postseason play by the NCAA for low Academic Progress Rate (APR) figures from previous coaching regimes.
The Rockets responded with determination and focused on building their program with an eye toward capturing the MAC West Division. UT opened its MAC slate by winning at Kent State for the first time in 13 years to send a message to the league that it was going to be a force to be reckoned with.
Fast forward to the Rockets' stretch run, as UT won seven of eight contests to put itself in position for its first division title since 2007. UT capped off its season with a 78-67 triumph at Eastern Michigan, igniting a locker-room celebration that served as a reward for overcoming a season filled with adversity.
Junior Rian Pearson (17.9 ppg, 6.8 rpg) was awarded all-league accolades for a second-straight season with a spot on the first team. Sophomore Julius Brown (13.1 ppg, 3.1 rpg) joined him as a third-team All-MAC selection. Center Nathan Boothe (8.3 ppg, 5.2 rpg) was also recognized for his solid rookie campaign with a berth on the All-MAC Freshman Team.
---
2011-12: A Remarkable Turnaround
The seeds to future success were planted at the end of the 2011-12 campaign. That's when UT won eight of its last 11 contests to register a second-place MAC West Division finish.
As part of that stretch, Toledo won its first two MAC Tournament contests before falling to eventual tourney champion and NCAA 'Sweet 16' participant Ohio in the quarterfinals. The Rockets then posted their first postseason victory in 11 years with a triumph over McNeese State in the 2012 CollegeInsider.com Tournament.
Sophomore Rian Pearson received All-MAC second-team accolades after pacing the league with 16.4 ppg and grabbing 8.3 rpg.
---
Excelling in the Classroom
Toledo has transformed its academic performance by leaps and bounds under Kowalczyk's guidance. The Rockets have garnered the National Association of Basketball Coaches Team Academic Excellence Award in four of the last six seasons (2013-14, 2015-16, 2016-17 and 2018-19).Toledo was the lone MAC school to be honored in 2015-16, ranking 10th in all of Division I basketball with its 3.16 GPA.

Toledo has ranked in the top two of the MAC in Academic Progress Rate each of the last four years, highlighted by league-best marks in 2015-16 and 2016-17. The Rockets have posted at least a 970 APR in each of the past five years.
---
Building a Program in Green Bay
Turning around a program is something Kowalczyk is familiar with after taking over the University of Wisconsin-Green Bay's program in 2002 under similar circumstances that he faced at Toledo.
Kowalczyk was named the fifth head coach in the history of Phoenix men's basketball in 2002, taking over a program that was coming off three consecutive losing seasons and possessed an RPI rating over 270.
Kowalczyk put his stamp on the Phoenix immediately. Green Bay soared from consecutive years as the seventh-ranked rebounding team in the Horizon League to the conference leader in his rookie season.
During the 2003-04 campaign, Kowalczyk orchestrated one of the nation's top single-season turnarounds. The rise of the Phoenix to a 17-11 record was among the top 10 improvements in the NCAA that year.
Green Bay's second-place showing in the 2004-05 conference race was the team's best in nearly a decade, since an undefeated 1995-96 league championship season.
The 2005-06 campaign saw a freshman-dominated squad finish in a third-place tie in the Horizon League with an 8-8 mark after being tabbed to place seventh in the pre-season poll.
In 2006-07, Green Bay posted 18 wins, the most by a Phoenix team in eight years.
The fruits of Kowalczyk's labors at the Phoenix helm were realized when Green Bay reached postseason play for the first time in 13 years with an appearance in the 2009 College Basketball Invitational.
In Kowalczyk's final year with the Phoenix, his squad posted a 22-13 mark and won the program's first post-season game since 1994 when it registered a first-round victory at Akron in the College Basketball Invitational.
Kowalczyk's tenure in Green Bay produced an eight-year run of success that saw the Phoenix post a 136-112 (.548) win-loss mark, including a pair of 22-win campaigns in his final two seasons. That period of prosperity also enabled Green Bay to become one of just 18 teams in the nation to place among the top four in its conference for seven straight seasons.
---
Learning His Craft as an Assistant
Kowalczyk prepared for his time as a head coach with 13 years as an assistant at five different institutions, with his final stint coming at Marquette under current Georgia Head Coach Tom Crean. While with the Golden Eagles, Kowalczyk coordinated efforts that outfitted consecutive top-25 recruiting classes in Marquette uniforms.
In 2001-02, the Golden Eagles finished Kowalczyk's last season ranked in the top 10 nationally, tallied a 26-7 overall record, and advanced to the NCAA Tournament. Marquette followed up that season with a Final Four appearance and a 27-6 mark in 2002-03.
"Coach Kowalczyk worked with me every day," said Marquette All-American and 2006 NBA Finals MVP Dwyane Wade. "I wouldn't be where I am today if it wasn't for him."
Kowalczyk embarked on his coaching journey as a student assistant at the University of Minnesota-Duluth in 1988 on the heels of a prosperous collegiate playing career with the Bulldogs. Kowalczyk graduated from UMD in 1989 with a bachelor of applied sciences degree in health education and physical education.
---
Family Life
Kowalczyk and his wife, Julie, reside in Ottawa Hills and have two children, Race (12) and Rose (11).
A standout prep star at De Pere (Wis.) High School for coach Jake Orlowski, Kowalczyk still holds the school record with 53 points scored in a single game for the Redbirds. He is the son of Rod Kowalczyk, longtime coach and athletics director at De Pere.
---
The Tod Kowalczyk File
Education:

B.S. in Health Education & Physical Education, Univ. of Minnesota-Duluth ('89)
M.A. in Education Administration, Rider University ('97)

Coaching Experience:

2010-Pres. Head Coach, University of Toledo
2002-10 Head Coach, University of Wisconsin-Green Bay
2000-02 Assistant Coach, Marquette University
1997-00 Assistant Coach, Rutgers University
1993-97 Assistant Coach, Rider University
1991-93 Assistant Coach, St. Anselm College
1989-91 Assistant Coach, University of New Hampshire

Playing Experience:

1984-88 University of Minnesota-Duluth

Family:

Wife, Julie; Son, Race (12); Daughter, Rose (11).